Mill City Cyclomaniacs
Bicycling Jerseys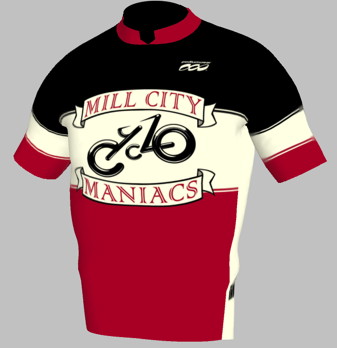 Podiumwear, a local (St. Paul) custom team apparel company, has created a hip, new cycling jersey for our group.
Too Late!
THE LAST ORDERS FOR JERSEYS HAVE GONE IN, BUT HERE'S THE INFORMATION FROM THE LAST ROUND OF ORDERS FOR REFERENCE:
Based on many inquiries/requests, Podiumwear has re-opened the online store to order Mill City Cyclomaniacs jerseys. We've caught that window of time between heavy cycling season orders and upcoming nordic skiing season orders, so that jerseys will only take 2-3 weeks to produce. In other words, orders placed this go-around will arrive at your homes by mid-late July.
NITTY GRITTY:
Orders may be placed between NOW - Tuesday, JULY 9 at noon. I will send out just a couple of reminders, given the July 4 holiday.
Price will be $50 per jersey (still a great deal for a custom team cycling jersey).
A size chart is on the Podiumwear website and/or you can ask someone in the club with a jersey. Keep in mind that the sizing on the chart is for a traditional, tight cycling fit. Adjust accordingly.
You can order and pay by credit card online through their site. They will ship direct to you once ready. PLEASE NOTE: I've been asked to mention that they've been having some issues with credit cards that have a zero in the security code. Their IT guy is working to resolve, but if you get declined, that is probably the problem. Just place a phone call.
Link here: https://www.podiumwear.com/team-storefront/TGbbbbbbc/ Password: Mill City
WHO SHOULD ORDER: You, your spouse, all of your children, aunts, uncles, grandparents, friends!! Just kidding, but honestly, anyone can order. If you are reading this, join in on the fun! They're pretty cool looking jerseys (at least that's what we're hearing from cyclists, bike shops, etc.).
WHY ORDER:
This is still one of the cheapest summer activities around.
Many of the young people who have ridden, ride, and/or plan to ride on Fridays, have a lot to be proud of!
The more riders sporting jerseys on our rides, the safer we stay.
You will be showing your support for this group and what it stands for.
You will be showing your support for the small local businesses who are sponsoring us.
The more we order, the lower the cost per jersey.
You will get to try (for most of us anyway) an all new, fun fashion look!
BONUS: Podiumwear has a fantastic facility right off the Mississippi River near downtown St. Paul, and would love to host us as a ride destination site this summer. You won't want to miss seeing how our jerseys traveled from the idea stage to ready-to-wear! More details to come.