About Us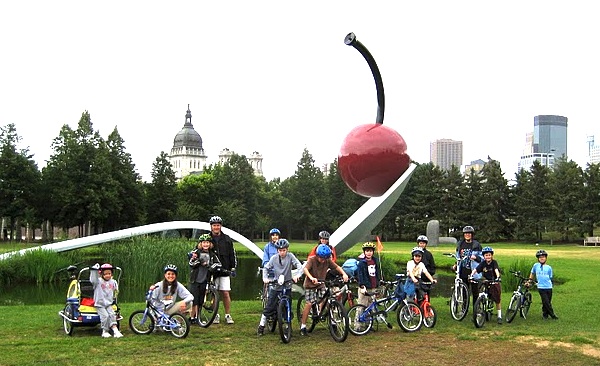 It seems there's a summer camp for just about every sport, except for youth cycling. To fill that gap, a grassroots cycling club started in South Minneapolis in 2009. Take a bunch of kids, a handful of parents, our second-to-none trail system, and you've got a summer Friday that's hard to beat!
Angie
| | |
| --- | --- |
| | In 2008, my two oldest boys threw out a, "Hey Mom, there's a camp out there for just about every sport! Why aren't there any biking camps?" They meant a camp that would take the typical 3-hour chunk of time to go out on long rides. A search revealed that distance riding opportunities for kids under age 12 are well-hidden, if they exist at all. So we sent an inquiry to a number of family friends and formed our own "camp." |
Wyatt and Zach
| | |
| --- | --- |
| Here are Angie's two oldest boys (Wyatt, 8 and Zach, 10), pictured in August 2008. Who knew they could actually bike 300 miles over the summer to earn 'real' bike jerseys? The next summer, they encouraged their friends to ride on Fridays and the Cyclomaniacs took off! | |
Kevin
| | |
| --- | --- |
| | When Angie began organizing rides for kids during the summers I was thrilled to join up and get my kids out there. As an avid bicyclist myself, I've been taking my kids out for long rides from the time they were big enough to sit up in the trailer, but as they approached their teen years, they became more interested in riding with their friends. The Mill City Cyclomaniacs provides a perfect venue for us to get out and all ride togther. |
Peter
Peter designed our new logo for 2013:

"I was put in contact with the Cyclomaniacs by my aunt Lecia, who is a friend of Angela's. I live in rural Minnesota and therefore haven't been able to ride with the group, but I do love bicycling! I also enjoy creating artwork and graphics - you can check out my online portfolio at grossmandesign.carbonmade.com."